Halloween is a celebration observed in a number of countries on 31 October, the eve of the Western Christian feast of All Hallows' Day. For the Luwan BC students, it's a day without school work. It's a day to have fun.
As a grade 12 student, this was the last Halloween I could participated in at Luwan Senior High School and I was glad to see the improvements over previous years. This year we maintained the "Halloween Ghost" and "Mummy Wrapping" activities and introduced new games "Scary Box and Feeding," "Pop Balloons" and "Find the Whiteboard." Of all the games, students gave two thumbs up to the "Battle of the Balloons" as the most enjoyable play. "I really could win the game," said a player. "I need to pay attention to the other players as well as the audience. That was a challenge!" Some students also gave suggestions about the game regulations. They wanted teachers to play with students rather than being hosts or judges.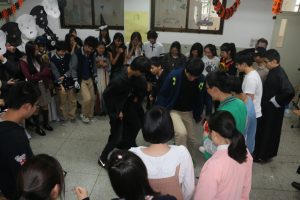 Besides the games, the most exciting part of Halloween must be the costumes. We dressed up and wore makeup. That day was the only day we didn't wear school uniforms. John won the second prize for "Best Costume" this year. He was very adventurous, dressed up as a cute girl. Everyone wanted to take a photo with him! Teachers were also well prepared. When I came to classroom I was scared by Mr. Hazel. He had joker face paint and wore his hockey suit holding his stick. Mr. Berg's dinosaur suit and Mr. Chang's ninja outfit were all enjoyed by students. "It was beyond my expectation," said Price Zhu, a Grade 10 student who won the third prize for "Best Costume."
What's more, this year's decorations got a lot good feedbacks. "I love this year's decoration," said a grade 12 student. "We only spent 100 yuan and used our creativity to make our classroom scary." Since the activity was totally organized by the student council, upon hearing students were all really into this year's Halloween party, Michelle, the president of the student council, smiled proudly. "We spent a lot of effort on it," she said while pointing at the hallway. "We introduced the warm up activity of making masks that can be used to decorate in order to build up the Halloween atmosphere." After seeing the pictures of the decorations, a parent of a grade 12 student said, "it's a good idea to demonstrate this kind of student work instead of just using ornamental colored ribbon. We like seeing our kids participate in school events."
This year's Halloween party was a success. I hope next year's student council will bring students even more enjoyment.
Author:Canace Yan