Our school's traditional house team event, track & field, was held by the student council over the last two weeks. This activity is held annually. Students can sign up for different kinds of athletic events that they are interested in and the top three will be rewarded. I will report details of the competitions and interview some of the winners and captains of each team in this news report.
This year's competition was fiercer than ever, since the new grade 10 students brought renewed energy to every team. The whole activity began with the male & female 100-meter dash. Grade 12's Lola and George from the yellow and orange teams were the winners. "It was hard for me to win first place because other girls are also skilled at running, especially Sharon and Faye. I need to put more effort on training after this," Lola said. George also agreed with her: "All the boys are strong and powerful."
After the 100-meter race was the female 4 X 100-meter relay race. First place went to the red team. The pink team followed them in a close second place. This race depended more on the cooperation between teammates than athletes' speed. During the competition, more than one team made mistakes like dropping the relay baton, so they couldn't earn a fast time in this event.
The final race was the men's 1500m race and Mr. Berg also competed with us. In the beginning, all of the students believed that he would be the winner without any question. However, to our surprise, grade 12's Jerry Li got a similar time as Mr. Berg. "This year, I practiced a lot on my running skills, so I think that's why I had a similar score as Mr. Berg and beat all other students," Jerry Li laughed. "By the way, I've been the winner of this event for 3 years in a row. I hoped someone could exceed me."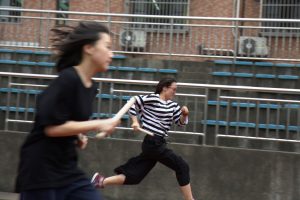 Other than different kinds of races, there is also the shot put and high jump events. Grade 12's George and Shining were the winners of the male / female shot put event and grade 11's Jerry Gong and James were the first and second place winner in the high jump event.
Although this year's "Track and Field" was a big success, some students still gave me some advice and wished it could be changed next year. Most of the students agreed that it's cool to see everyone join this activity. But still, a small group of people who are weak or poor at athletics cannot have fun during the activity. Grade 11's Sherry suggested: "The student council needs to think of more than one type of event so that all the students can choose what they like, such as skip the rope."
Grade 10's Nancy thought that there should be more group events to let students play together "because it's hard to see everyone doing sports together during the school day," Lola said. What's more, Grade 12's Jomcy believes that if students are forced to sign up before the activity, then less time would be wasted. "The student council needs to organize and push students well," she said.
In conclusion, although the "Track and Field" event is over, most students gained happiness and made new friends in different grades and everyone was running and playing on the playground, enjoying the start of summer