Jomcy Zhao
Every Friday, there are always a bunch of people gathering in the library during lunch time. Music charts, instruments, concerts… You can hear them talking about music. With the humming of some random melodies, they have different kinds of instruments in their hands. That is our Music Club.
The Music Club consists of students from all three grades — eleven students from Grade 10, four students from Grade 11, and four Grade 12 students. The students are divided into four groups that practice songs together.            Each group has at least one singer, one pianist, one guitarist and a drummer. Other than the instruments found in a typical band, some groups also try some special additions. They add a tambourine, a violin, or even a Zheng, into the group. Western and Eastern elements collide together and have unexpectedly extraordinary effects. Mr. Milne is the instructor of the Music Club. He helps the students to improve their skills and modify their songs every Friday. He is also good at guitar and is knowledgeable about music. If you are fortunate enough, you may have a chance to hear him play a beautiful melody.
The Music Club not only provides a platform for the students to enjoy music, but also a place to make new friends. You may meet someone who has similar taste in music as you. You can talk about your favorite singers with each other. Or maybe someone is looking for a group to try to make original music, then you can explore this unknown area with your partners together.
The Music club often performs in different assemblies and ceremonies. Every year at Christmas, almost every group in the Music Club prepares various music-related performances and increases the happiness in this wonderful festival. Also, at the Luwan High School Art Festival, they walk on the stage to represent all the BC students in Luwan, and perform their wonderful songs.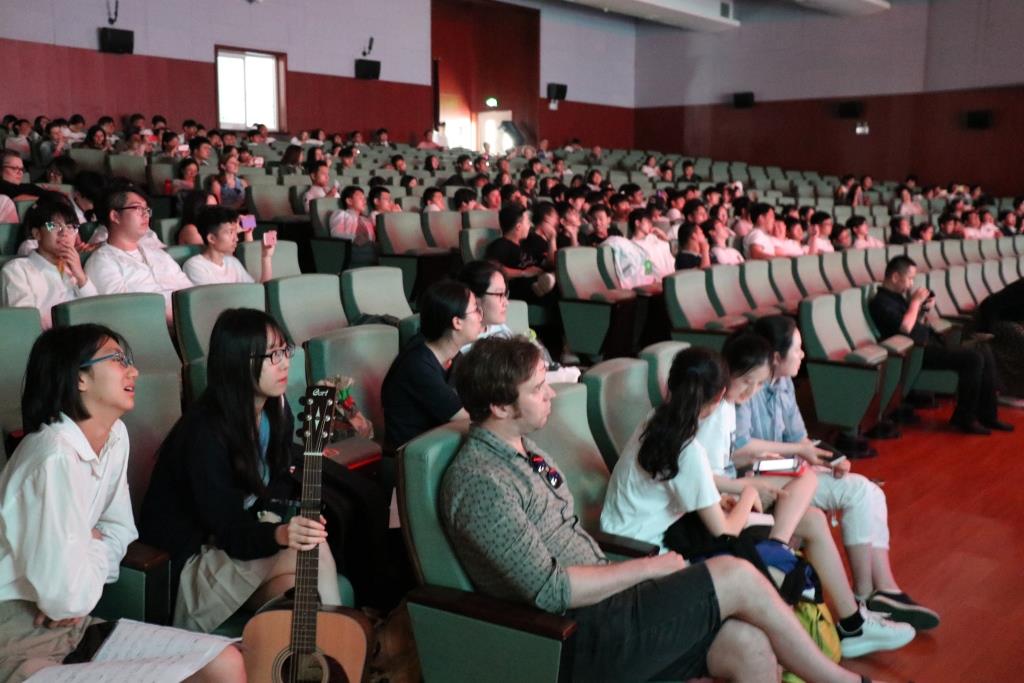 On May 17th, 2018, Nancy from Grade 10, Irene, Sherry from Grade 11 and Arden, Jayla, Jomcy, Shining from Grade 12 went to Suzhou Industrial Park Foreign Language School to participate in the BCOS Music Festival. They had practiced for a long period of time for this day. The first group was made up of Grade 12 students. They sang "Shape of You", a pop song which caught the audience's attention, then came a slow song called "The Climb" which calmed the audience down. Grade 10 and 11 students performed "Dying in the Sun" and "Not Enough". They did pretty well on controlling their intonation and received commendation from the teachers there. There were other international schools as well, such as Maple Leaf International School and Sino – Canada School. They also came and joined in this event. Country music, opera, b-box, chorus… Different types of music performances provided the students with brand new musical ideas. They got a chance to communicate their music ideas with each other.
Music has no boundary, just like the Music Club. No matter how much you know about music, you can join as you love music. In our busy study life, the Music Club can be a shelter to offer you peace and happiness.