Jack Ye (grade 12)
Our school's traditional English Olympics were held over the last three weeks from March 20th to April 1st. This activity is held annually. Students from each house team sign up for one or two of the events to represent their house team. If they get first second or third place in an activity, they can win points for their teams. This year, our four activities consisted of Word Relay, Family Feud, Savvy Synonym and Speed Read.
In the first week, we had our two activities: Family Feud and Word Relay. In Family Feud, contestants gave a series of answers to some questions. These questions were answered by all the students at Luwan BC in a survey. The contestants needed to guess the most popular answers to get points. I was glad that grey team and red team entered the finals in this game.
For the other game, Word Relay, one person read out a message and the other person memorized it and went to the other room to write it down. As one of the participants, I found this game very interesting and most students enjoyed it. Some students rushed so hastily that they even knocked down the chairs in order to become the first person to write down the message. Some students even tried to interfere with other teams when other teams were trying to memorize the sentence. However, this only made the game more interesting. Ultimately, pink team and yellow team entered the finals.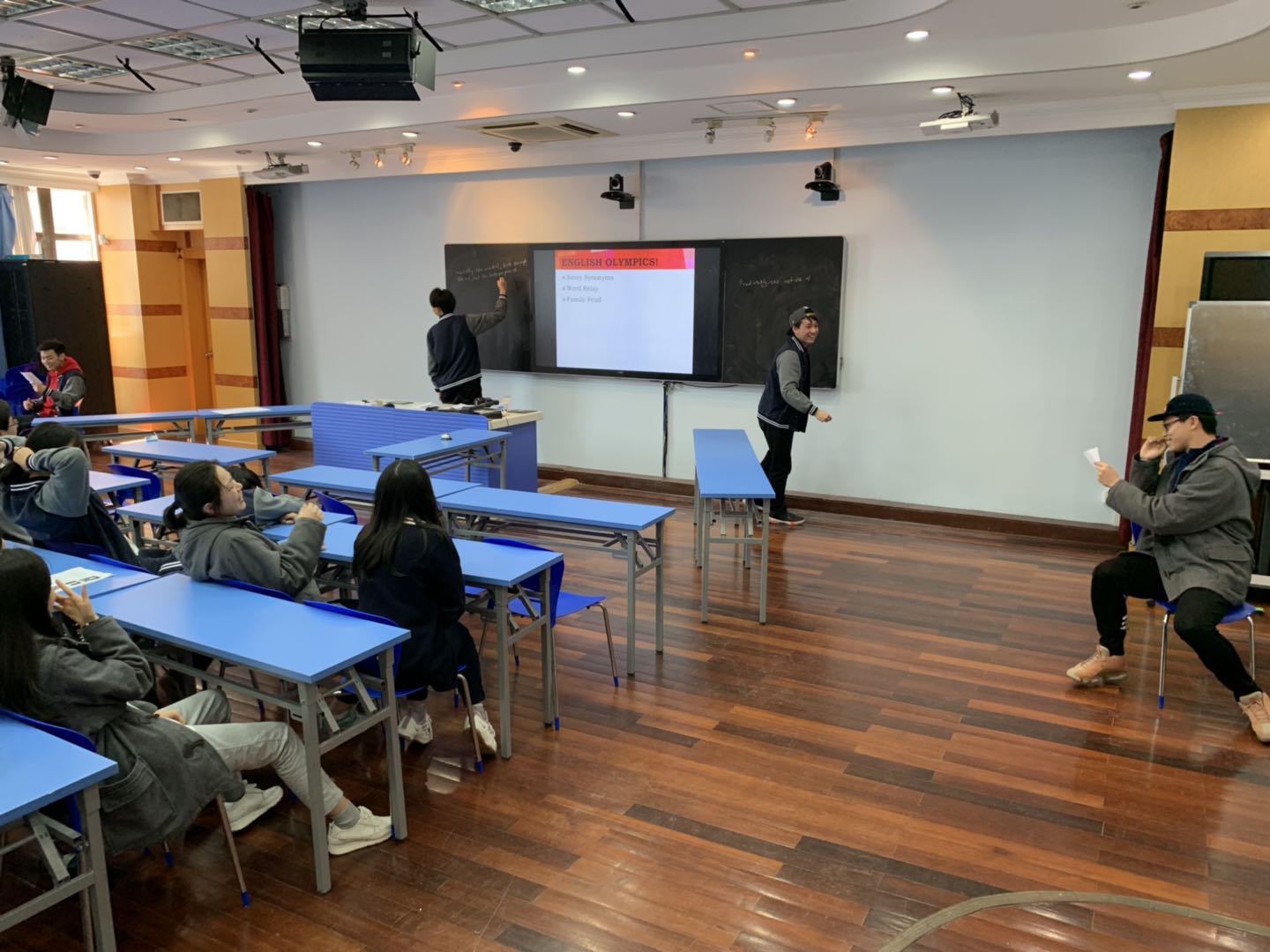 In the second week, Savvy Synonyms and Speed Read were held. In the game of Savvy Synonyms, students wrote down the most synonyms of a given word in a limited time. To be honest, though the given words looked simple, it was hard for us to think of some synonyms. It helped me realize the meagerness of our vocabulary. After the activity, I felt our team wrote so many synonyms until I saw some other students grade ten or eleven could even enumerate more.
In the other activity, students were required to read a book in a limited time and answer some questions. This time, they were asked to read economics books. When I saw the book, I thought they could not make it. Then it turned out I was right. I found most of them could answer none of those questions after 10 or 15 minutes. However, still some students did pretty well, such as Delous from Grey team (first place), Jason from green team (second place). This activity requires a large vocabulary and ability to comprehend.
The last week was the finals for three activities. We first had our Word Relay, which was yellow against pink. Both teams encountered lots of nasty words when they tried to spell out the sentence. Under some indications, they successfully spelled out the words and yellow got the first prize. In the game of Family Feud, which was grey against red, red team was initially ahead of grey team by making several savvy guesses. However, the grey team still stole the points by successfully guessing out the most popular answers. In the game of Savvy Synonyms, which was green against orange, we can see that Kyle from green team demonstrated his proficient TOEFL vocabulary and helped his team get first prize.
The English Olympic is quite thrilling for all BC students in our school. Students can not only demonstrate their English skills, but can also have fun in these games. Most importantly, it fosters students' consciousness of competition.