When you can hear bells jingling everywhere on the street, it must be the time of Christmas. Same as usual, LWBC has been gearing up for Christmas since the start of December. Student council decorated the hallways with Christmas ornaments and bought a 2-meter-high Christmas tree. Students decided who will receive their presents with a lottery and put the gifts under the Christmas tree before Christmas
On December 24th, in the Christmas blessing of the two hosts and the cheers of the students, our Christmas assembly began. What is different from the previous year is that we added a new activity before the beginning of performance—building a gingerbread house. Each team should build a house with the provided gingerbread and decorate it with their own decorations. What's interesting is that because the frosting takes a long time to set, two teams' gingerbread house collapsed due to their lack of patience. Finally, the Grey team filled the gingerbread house with lots of candies which made it looks better while the Green team just gave it up because they didn't have enough time.
Other than building gingerbread houses, the other new house team event we came up with this year is a game called "Nong Lei Gang Sa". The name of the game is transliterated into a Shanghainese sentence which means what are you saying. The game is played with five students trying to pass on a Shanghainese message to a teacher. The team which performed best must be the yellow team due to the outstanding performance of Mr. Chang; his pronunciation of the message was almost as local as a native Shanghainese's. This game not only let foreign teachers learn some Shanghainese, but also let students realize the importance of learning Shanghainese from their parents.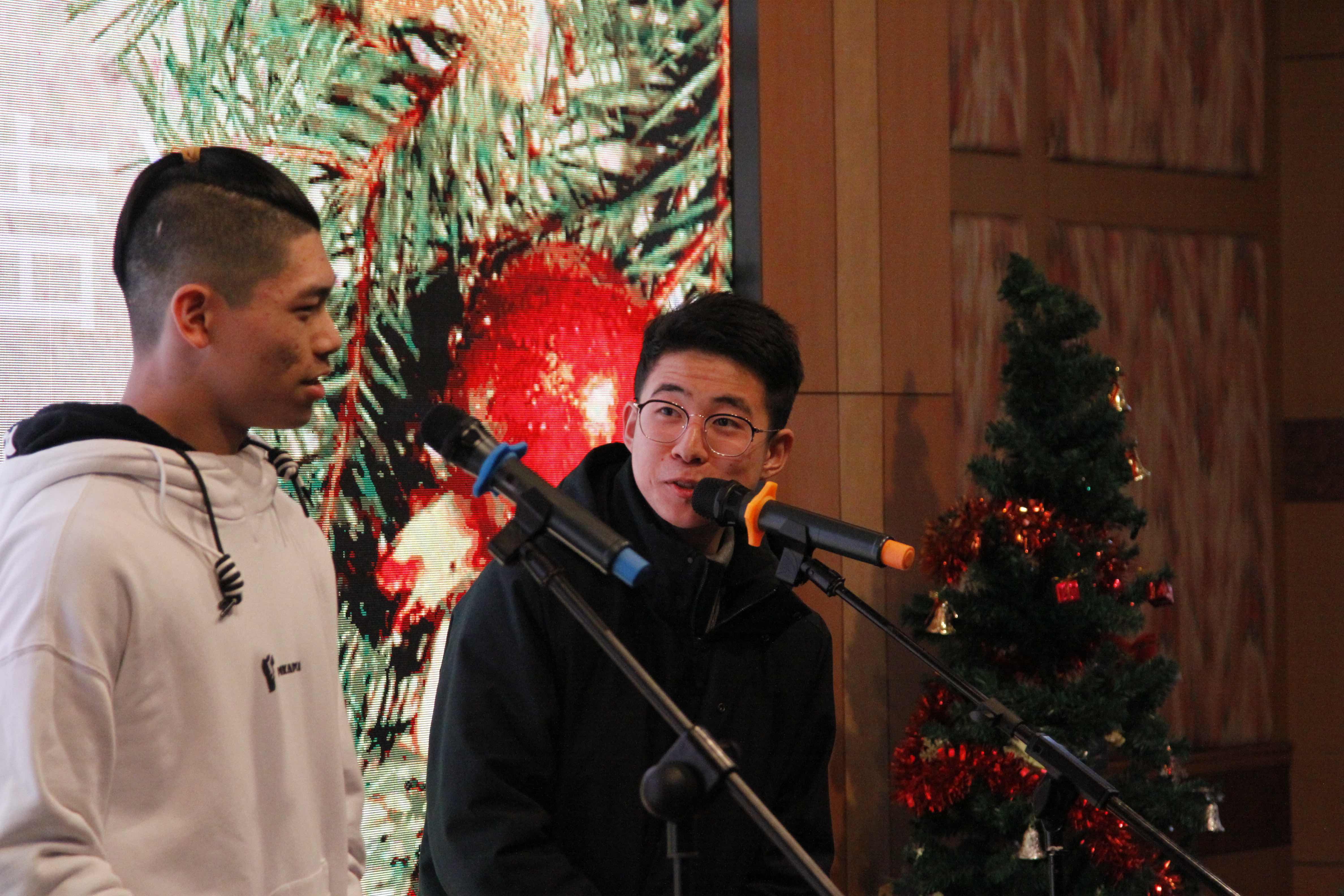 The talent show this year was also really wonderful. We had four rap shows performed by Heather from Grade 10, Mr. Ruelle, Mr. Chang & Roy from Grade 11 and Bill & Alex from Grade 12. The most surprising one must be Mr. Ruelle's performance because he even brought the physics experiment about centripetal force to the stage while singing. It is worth mentioning that Mr. Law brought his saxophone and showed the different types of music that saxophone could perform which aroused the interest of the students.
As a member of the student council, we are very happy that the students can enjoy our activities and we wish you all a happy new year.
By Candice Zhang