By Mr. Mark Wuerch
Luwan BC High School Principal
As Principal of any high school will tell you that one of the most anticipated and rewarding experience for them in any school year is graduation. This year has been a most unique experience for me in that it was the first time I was involved with Luwan graduation and I had to watch it from a distance because of COVID-19. While this required a lot of planning from a distance, the grad was a great success for our students.
In my pre-recorded message to the graduating students I said, "One thing that is for certain – this graduation year 2020, will be remembered for a long time." To be sure, this year has certainly been one of unforeseen challenges for all stakeholders. But I was particularly impressed by how our grade 12s – our Luwan BC grads of 2020 were able to rise to the challenge and perform exceptionally well throughout this year.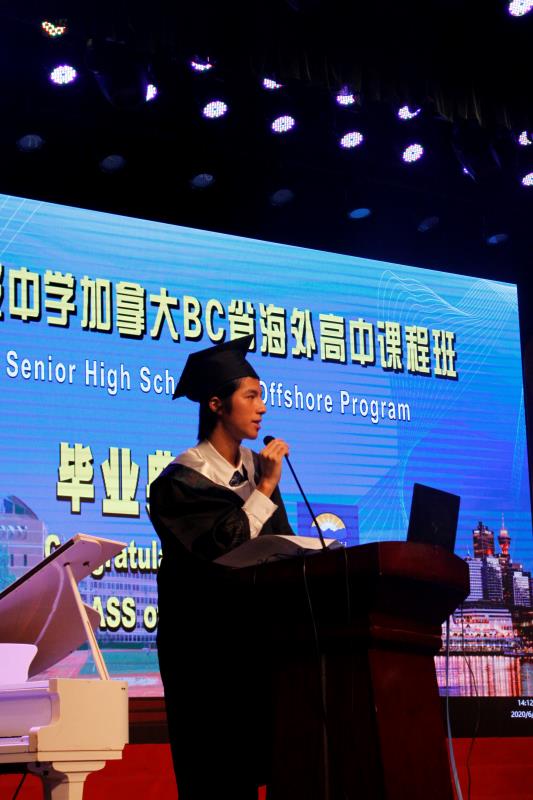 All our grads have received multiple offers to universities, and all have declared where they are intending to go for the 2020-21 year. I have in particular been impressed by the many artistic talents our grads demonstrated throughout the school year and at the ceremony. Not only are they academically very strong students, they are also creative in many ways. I had the privilege of interviewing all the grade 12s earlier in June for their Capstone Project and was thoroughly impressed by how their future academic and career plans weave together their formal academic training to their creative passions. For example, a number of students have interests in fashion, design, textiles and sewing and want to work in the fashion and/or textile industries. All are obtaining degrees in such things areas as marketing, finance, textile and environmental engineering and want to use those degrees as springboards to move into career areas that they are passionate about. Their thoughtfulness in their career pathways all truly impressed me greatly and make me believe that they will undoubtedly be successful wherever their paths lead them.
As a staff, we at Luwan are very proud of our grade 12 students. We look forward to watching each of their career paths unfold and look forward to reflecting, with more than a little pride, that we played a part in the infancy of that success.
We congratulate all our Class of 2020 students and wish them nothing but the best of success in all their future endeavours.