By Danny Yuan 
Our red team won the first pizza party on November 30th by winning Chit Chat. Our teammates couldn't wait to eat the pizza on that day, and even forgot to eat the original delicious school lunch as they always have. Once the bell rang, signaling the end of period 5, they all rushed directly to the library and waited for the upcoming pizza party. Some of them didn't even eat their breakfast, just because they wanted to have a better appetite to eat pizza. After we finished our pizza party, we all felt that we could eat twice as much food as we had, and we also hoped to win the next round of Chit Chat and receive another pizza party again.
In order to win Chit Chat, our whole team put in a lot of effort. At the start of round one, there was an activity where we made clothes out of old newspapers. We won first place for two sets of fashionable clothes and got three bonus Chit Chat cards. This gave us a head start on the round. Although we lost some cards and were overtaken by other teams a few times, we still believed that we could win in the end. We got about five bonus cards during the last week, which put us over the top and we were able to secure the first-place finish. We think we've been rewarded for all the hard work we've put in. It was all worth it in the end.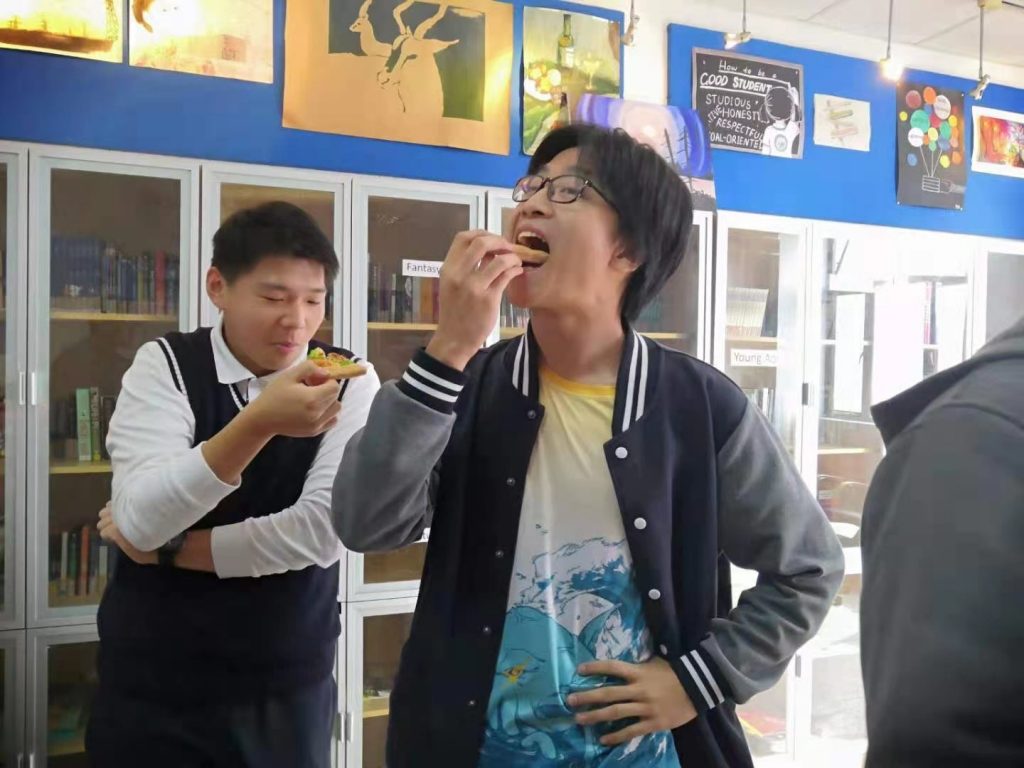 To bring even more honor to our team, we are also trying to improve our house team points, which we currently have 950 of. We can say that for these house team points, each of our player worked really hard and took each activity seriously; everyone played to their strengths, contributed a lot to the red team, so that we had at least a top 3 finish. We also took home a lot of first place finishes, for example, the basketball tournament, clothing design, Christmas tree decoration, Halloween, Chit Chat and so on. During Chit Chat, in order to encourage our team members not to lose their cards, there is an unwritten rule: if our team fails to win the first place, the member who loses the most cards needs to buy milk tea for other team members. This will not only prevent the number of card losses, but also help team members to speak less Chinese in daily life so as to improve their English. For future activities, such as the hockey match, dodgeball and so on, we encourage our red team players to keep a positive attitude and compete with other teams for the rank fairly.
Here are some quotes from our team.
"Our whole team members worked very hard in the last week. Because, red team is a family, we really wanted to eat pizza. Also, as a team leader, I am very proud and happy for us. After all, we got our pizza party for the first time this year. Our team effort also made me feel very glorious. I will continue my role as a leader and lead the red team to more achievement in my last year. By the way, I hope we can have more and more pizza parties later" – from our team leader Ryan Cheng (G12).
"At the beginning, I didn't think we could easily win Chit Chat, but when I saw that each of our classmates were striving for first place, I found the hope which gave me confidence. This year's Red Team, like last year, also had a spirit of unity. I also saw the desire to win in the eyes of the freshmen in grade 10. Also, the pizza was delicious, I was so happy to win, I can't wait to eat it again. As a grade 12 senior, I will also lead our members to win more bonus cards" – from Eugene Cai.
Let's go red team and work hard to reach our higher goals and have a pizza party every time!)